General
Product Type:
Smart display – LCD 8″
Features:
Android Open Source Project (AOSP) 8.1 OS
Microphone:
2 microphones array
Enclosure Colour:
Business black
Localisation:
Sweden
 Speaker System
Speaker Type:
Active
Continuous Power:
10 Watt
Amplifier:
Integrated
Interfaces:
IEEE 802.11ac, Bluetooth 4.2
Compatible Software:
Microsoft Teams
Controls:
Volume, mute microphone
Display:
LCD – 8″ – 1280 x 800 – touch screen
Camera:
5 Megapixel
 Speaker System Details
Speaker Details:
Speaker – mono – 10 Watt – active
Driver Details:
Speaker: full-range driver – 1.75″
Speaker: 2 x Passive Radiator
 Miscellaneous
Included Accessories:
AC power adaptor
 Power
Power Source:
AC power adapter
Power Consumption Operational:
30 Watt
 Dimensions & Weight
Width:
14.221 cm
Depth:
11.136 cm
Height:
26.321 cm
Weight:
1 kg
 Manufacturer Warranty
Service & Support:
Limited warranty – 2 years
Features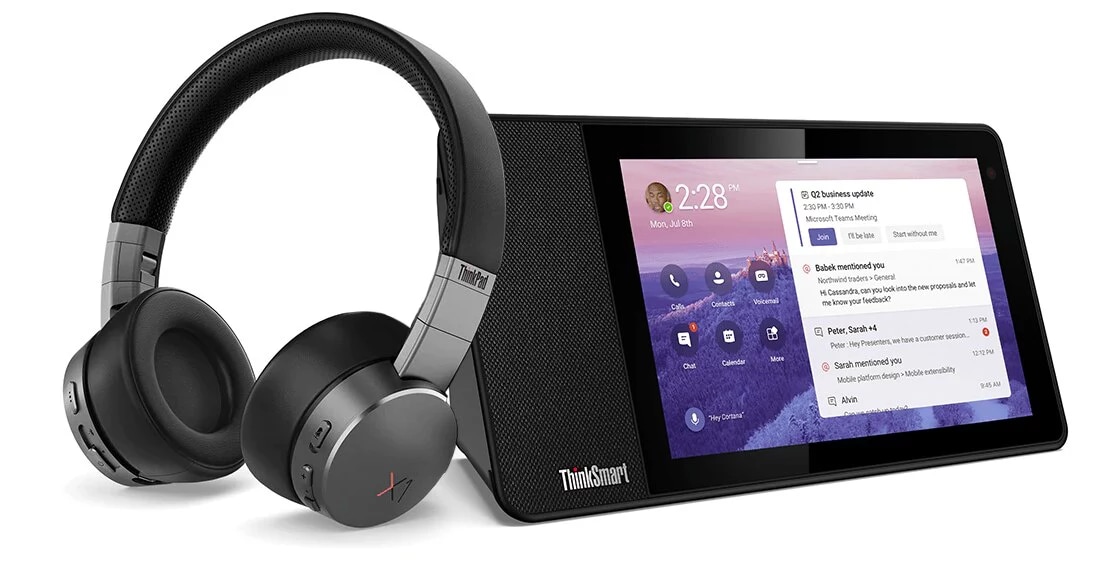 Your PC has limited multitasking capability—let the ThinkSmart View for Microsoft Teams handle the collaborative and administrative aspects. This device is easy to deploy and maintain, and expertly engineered for reliable, always-on usage. Plus, its intuitive touchscreen interface—with a one-touch Microsoft Teams meeting start—means no more dial-in delays. Watch your productivity soar!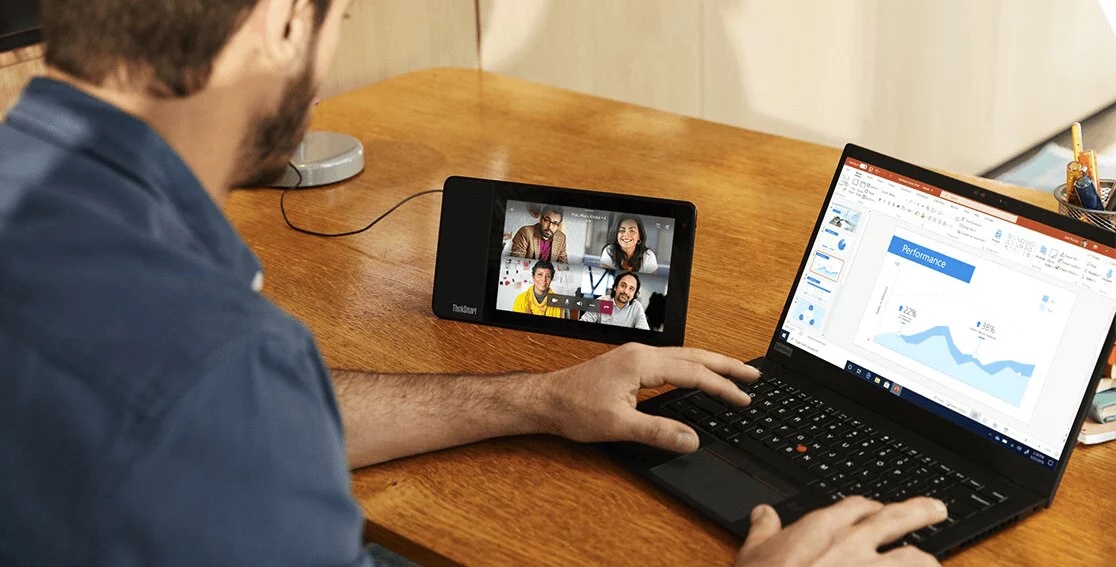 Conduct better meetings
Collaboration is a breeze with the voice-ready ThinkSmart View for Microsoft Teams. Use it to engage in voice or video calls without impacting the work in progress on your PC. You'll unlock richer content-centric meetings and enjoy clear audio in private settings with powerful built-in mics and speakers. Use it in public with the optional ThinkPad X1 Active Noise Cancellation Headphones for optimal audio experience.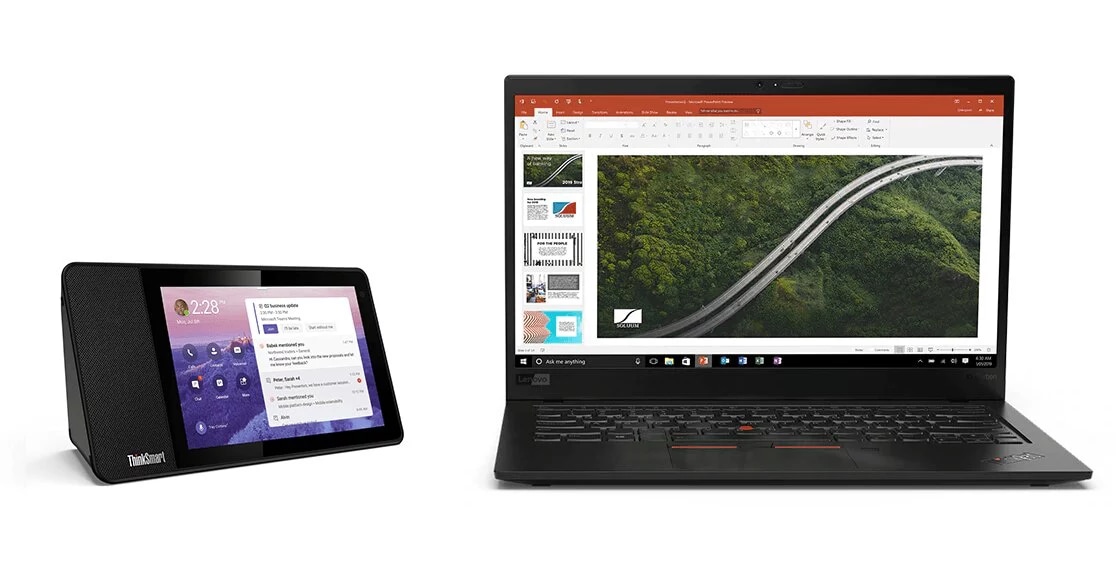 The intuitive design on the ThinkSmart View for Microsoft Teams works across a variety of office spaces—including your home*, if you happen to be working remotely. It's flexible enough for hot-desking and common-area phone capabilities, including phone booths and other shared spaces. This all-in-one, dedicated device provides hands-free access to calendars, files, video conferences, and more.
*ThinkSmart View is not intended to be a smart home device; it is designed for business use, is intended to be managed and updated by an enterprise's IT department, and requires a commercial license from Microsoft.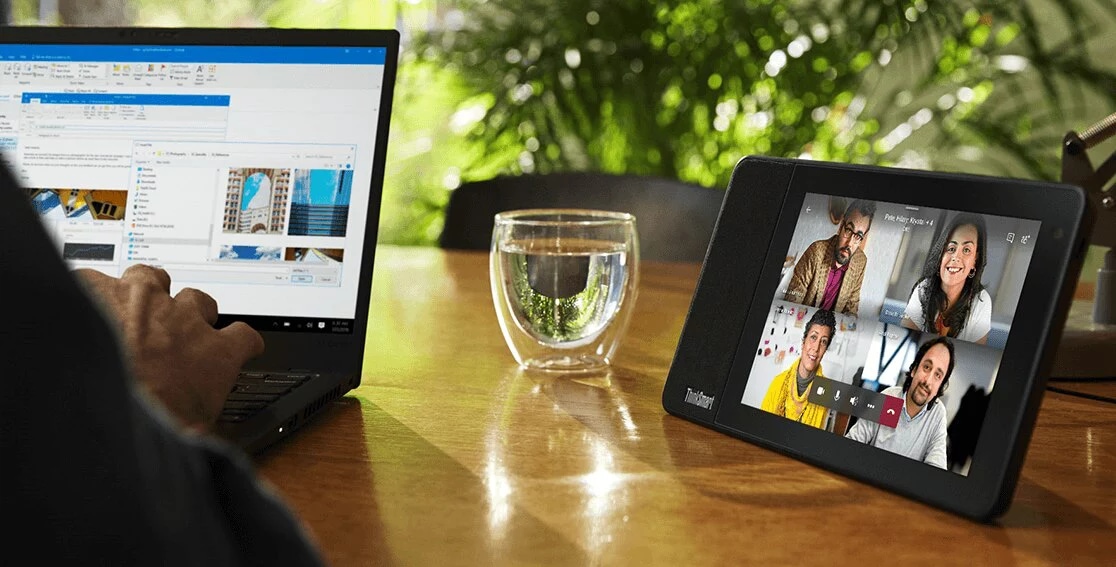 Keep private work, private
The ThinkSmart View for Microsoft Teams features built-in security that works behind the scenes. A camera shutter and mic-mute button protect you from being seen or heard when you don't want to be. When you're not using the display, it stays locked with a four-digit personal identification number (PIN). And when it's paired with your system via Bluetooth®, it locks in tandem with your PC.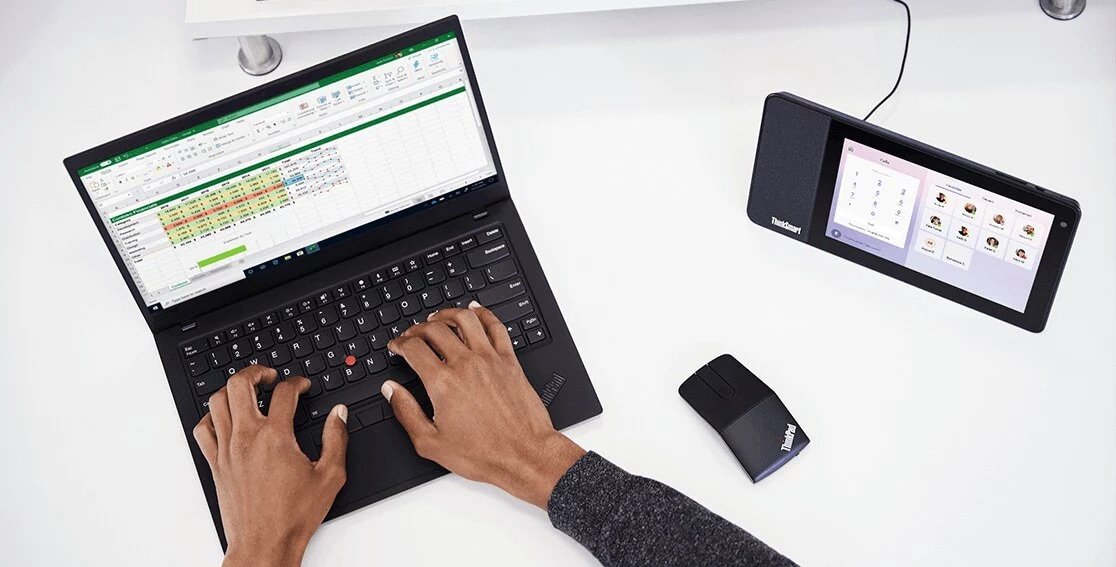 Personalized services to maximize results
Lenovo's Smart Office Professional Services—available at additional cost—provides custom services tailored for the Smart Office lineup, so you can make the most of these cutting-edge collaboration solutions. ThinkSmart View for Microsoft Teams includes Premier Support services with the following limitations: Premier Support requires depot service in lieu of on-site service; it's not eligible for parts and labor prioritization for work requests, and not eligible for the Lenovo Service Connect portal.