General
Category:
Utilities – digital signage software
Product Type:
Licence
Licencing
Licence Qty:
1 IP
SMART Hospitality Display Solutions
LYNK™ REACH 4.0
A centralised content management solution
DEFINITION SYSTEM/ARCHITECTURE
Hotels can use the latest hospitality management technology to deliver a differentiated guest experience. Samsung's LYNK REACH 4.0 fuses the benefits of its SINC and REACH hospitality technologies to offer a comprehensive content management solution. LYNK REACH 4.0 enhances the guest experience efficiency-enhancing technology and perks ranging from more information delivery channels, convenient communication options and efficient room management.
As a unified content management solution, LYNK REACH 4.0 accommodates LAN, WIFI and coaxial infrastructures to amplify hotel management, monitoring and guest service functions. Transferred by proprietary management server (PMS) and customized templates, hospitality users can create and deliver personalized service for a more memorable experience. This includes access to a range of IP channels and RF channels, applications and services mirroring what guests expect at home and on their mobile devices.
LYNK REACH 4.0 additionally enables two-way communication between hotel management and guests. The solution's efficient remote control capability for in-room display ensures quality service delivery in real-time without in-room labor and maintenance.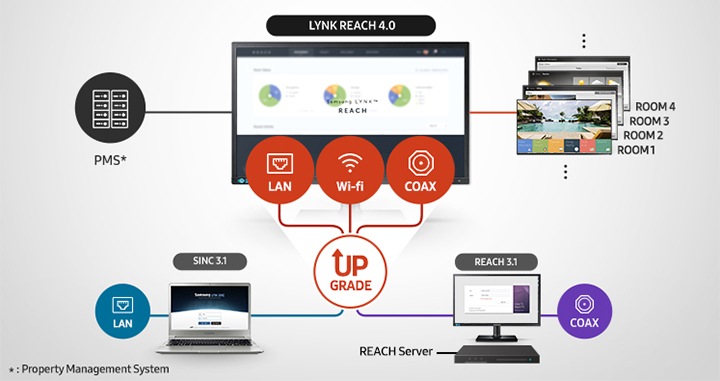 Increase Hotel Brand and Offerings Visibility with a Welcome Video Channel
LYNK REACH 4.0 allows hotels to use Welcome Video Channels to deliver useful information to guests in a more engaging way. Through easy video upload or URL insertion, hotel managers can customize a channel list of clips showing hotel facilities or advertising special offers, local events or attractions. Hotel managers can modify the video clip area depending on their needs, choosing either full screen display or a custom size. The ability to stream these promotions on several channels at once provides an additional revenue stream for hotels and enhances brand recognition.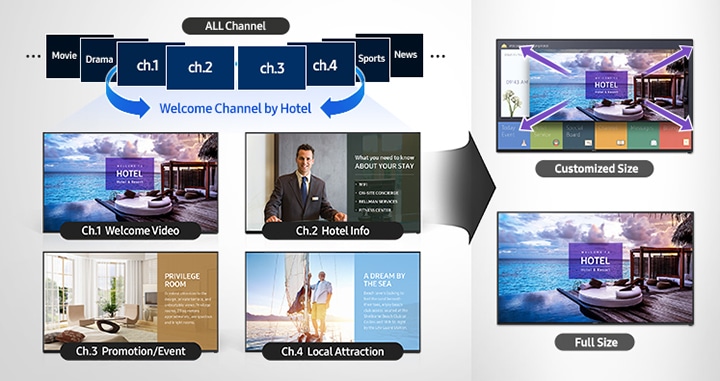 Streamline Workflow with Real-Time Monitoring and a Central Management Platform
The Samsung LYNK REACH 4.0 solution reduces total cost of ownership for hospitality users with intelligent features that provide real-time monitoring reports and a central platform from which IT managers can remotely manage processes. Hotels can select individual televisions or groups of television and monitor TV and network settings, room and guest information displays and guest check in/out. These capabilities provide an effective way for hotels to save time and effort on labor and maintenance costs, as hotel personnel do not have to visit each hotel room every time a change is required.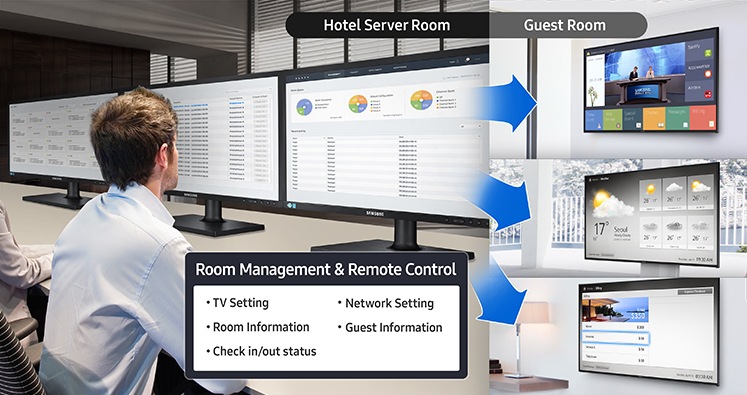 Maximise Guest Access to Entertainment and Information
Samsung's LYNK REACH 4.0 solution gives hotel managers access to a mix of IP channels and RF channels, creating a hybrid channel map capable of offering guests more entertainment and information options than available on standard hospitality displays. Through this enhanced access, hotel managers easily can compose and activate a channel bank list to meet unique guest needs. LYNK REACH 4.0's extensive channel bank additionally allows hotels to offer specialized premium paid content available to applicable guests, creating a potentially profitable revenue source while offering guests more customized viewing options.
Differentiate Guest Experience with Application Access
With LYNK REACH 4.0, hospitality properties can delight guests with the same interactive entertainment they experience with their personal devices on in-room displays. Samsung's Smart Hub provides a gateway to a variety of apps, opening a window to more than just conventional TV channels for guests who qualify. Using Smart Hub, guests can conveniently access social networking apps enjoy music streaming and access the news through the hotel's IP network for enhanced TV content based on their individual needs.
Hotels have the control to activate or deactivate app access to provide differentiated service among guest groups.
Deliver Custom Content Easier through a
Customised User Interface
LYNK REACH 4.0's customizable user interface enables hospitality users to deliver a richer, more personalized in-room guest experience. Using the Content Authoring tool supported by the enhanced UI, content development is simpler and easier.
Through a selection of fully customizable, easy-to-use templates, LYNK REACH 4.0 helps content managers set up a property portal with editable background messages and images. The solution also is equipped with readily available, intuitive UI templates that simplify content management, development and deployment. The interface contains a simplified menu with a tree hierarchy of settings that resembles a desktop folder system to accelerate item location. The UI also enables hotel managers to insert images, videos or text, and to relocate and resize items.
Offer Personalized Service from Check-in
through Checkout
Samsung's LYNK REACH 4.0 platform ensures that guests receive personalized attention and convenient access to on-site amenities and services throughout the duration of their stay.
• At check-in: The LYNK REACH 4.0 server uses the hotel's proprietary management server (PMS) to transfer guests' unique information and greet them with personalized welcome messages.
• During guest stay: Once data is transferred to the LYNK REACH 4.0 server, hotel managers can send guests personalized messages relevant to their stay, ranging from restaurant reservation lists to the schedule of other on-site services.
• Express checkout: LYNK REACH 4.0 highlights and organizes all guest charges within an in-room display enabling a faster guest checkout process that does not require a trip to the lobby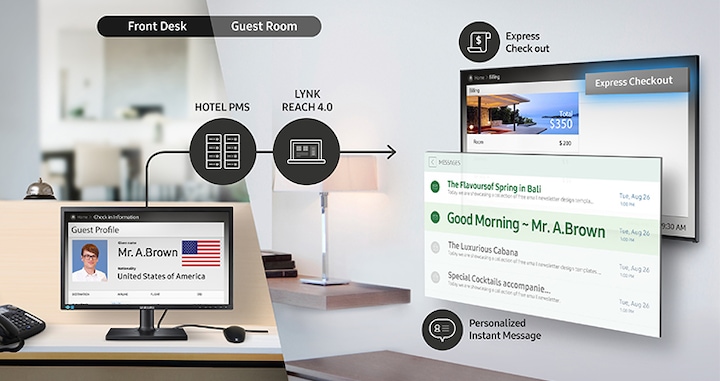 Enhance the Guest Experience with Easy Access to Valuable, Real-time Information
With LYNK REACH 4.0, hotels can provide guests with a specialized experience built around their schedules or reasons for staying. Guests can easily access web, video and app content including hotel services, tourist information, weather reports, flight information and more with multiple-language support on their in-room TVs. For example, TVs in conventioneers' rooms can display a custom UI and menu specific to the convention, including event locations, meeting alerts and entertainment options. In addition, videos and images promoting local event and tourist information, available discounts, and more can be displayed for quick and easy guest access.